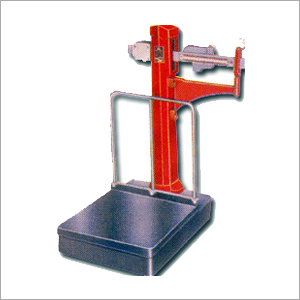 Product Specifications
300 Kilograms (kg)

Other

Not Applicable

100 GRAM gm

Mechanical Scale

Mechanical Weighing Scale

1 year
Product Description
AVAILABLE PLATFORM CAPACITY & PLATFORM SIZES
| | | |
| --- | --- | --- |
| CAPACITY | MINOR BAR | PLATFORM SIZE |
| 300 kgs. | 10 kgsX100gm. | 680X550mm. |
| 500 kgs. | 20kgsX100gm. | 630X750mm. |
| 1000 kgs. | 50kgsX200gm. | 915X830mm. |
The steel-yard is made of special steel, zinc plated and is graduated accurately to the full capacity of the machine by means of machine cut notches. This system gives quick and accurate weighment without the need for loose weights. Wear & tear of the notches is minimise to a great extent by a special notch protection bar as illustrated. A quick-tumbler locking device is provided to hold the steel-yard while loading and unloading for minimising wear & tear of knife edges & bearings. Major poise is mounted on roller bearings for smooth movement. The brass polished bracket which carries the brass polished scale, engraved with marking is fixed at an angle to the steel yard for easy reading. The brass polished minor poise moves on it for final reading. Balance box at pillar end of the steel yard is provided for quick zero adjustment. Sensitivity ball incorporated in it for restoring original sensitivity instantly.
Different platform sizes can be provided in any of the specified capacities.
We reserve the right to change the design without notice.
Warantee : We give 12 months warantee against any manufacturing defect and faulty workmanship.
After sales service : We provide our after sales service facilities to all our customers any part of the country. Our trained technicians as well as our own service experts are available directly from us.
| | | |
| --- | --- | --- |
| CAPACITY | MINOR BAR | PLATFORM SIZE |
| 100kgs. | 5kgX50Gram. | 390X330mm. |
| 300kgs. | 10kgX100Gram. | 560X390mm. |
| 500kgs. | 10kgX100Gram. | 610X610mm. |
Dormant Type Mechanical Platform Scale
All levers are designed to withstand substantial overloads and resist heavy wear. All knife-edges and bearings are made from special alloy steel and they are hardened and ground for extensive service life. They are standardised for easy replacement. Unique suspension mechanism permits main levers to swing in the direction of motion of vehicles, absorbing longitudinal thrusts. Platform constructed of heavy duty mild steel plates of adequate thickness, ribbed design to avoid skidding.
Our cart weigh-bridges conform to the isi 1436-1960 specifications revised upto date & those laid down by weights & measures department, government of india.
Steelyard is graduated upto full capacity without loose weights. Inclined scale has clear easy-to-read markings. The steelyard is zinc plated for anti rust protection. Notches on main blade are machine-cut for higher accuracy. Notch protection bar is provided. Smooth running poises facilitate quick and easy weighing operation. Tumbler locking devise prevents undue wear and tear.
All part finished in synthetic enamel paints. Bright parts are coated with preservatives.
| | | | |
| --- | --- | --- | --- |
| | | | |
| | | | |
| | | | |
| | | | 1200x1200 mm; 1500x1500 mm |
| | | | 1200x1200 mm; 1500x1500 mm |
| | | | 1800x1800 mm; 2100x2100 mm |
| | | | 1800x1800 mm; 2100x2100 mm |
| | | | 3600x2400 mm; 4200x2400 mm |
| | | | 4200x2400 mm; 4800x2400 mm |
Warranty : One year against any kind of manufacturing defect.
Enter Buying Requirement Details